Our Validation Standards
We pride ourselves on the specificity and reproducibility of our antibodies.
Being able to replicate results is critical to research.
Many recent publications have raised alarming questions about the various factors contributing to the lack of reproducible results in several landmark research studies. Many of these publications have implicated poorly validated research antibodies as a main culprit in what has been labeled 'the reproducibility crisis'. As an original antibody manufacturer dedicated to providing researchers with the highest quality antibodies on the market, we find these discoveries to be extremely concerning. Since our inception, we have committed ourselves to producing quality and reproducible antibodies that further scientific research, Antibodies that Work!!!
We will never sell an antibody unless we can get it to work in our hands.
That is why all our products and lots undergo strict in-house testing and validation with endogenous proteins prior to release. We test our phosphospecific products in phosphatase treated lysates or membrane blots to confirm phosphospecificity. Additionally, our one-of-a-kind
serum pooling initiative
for polyclonal antibodies is another example of our commitment to providing the scientific research community with quality antibodies that yield reproducible results. By pooling serum for individual polyclonal products, we can do our part to eliminate lot-to-lot inconsistency and offer only the highest quality antibodies that researchers can depend on time and time again. To identify products purified from pooled serum, look for our pooled serum icon.
Phosphospecific immunolabeling of our GluR1 ser845 antibody is demonstrated by treating the second lane of the blot with lambda phosphatase.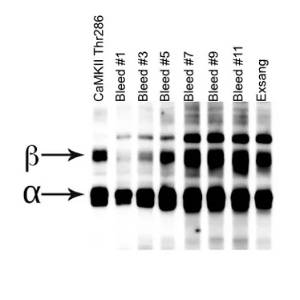 Compared to our purified CamKII antibody (lane 1), the signal strength of the alpha and beta subunits varies greatly in the serum collected from different bleeds of the same rabbit.
Your feedback is invaluable!
It is these high standards for antibody validation that allow us to provide the scientific community with Antibodies that Work! We strongly encourage input from researchers regarding the performance of our antibodies. It is through these collaborative efforts that we can help contribute to reducing experimental variability and irreproducibility.
Have questions? We are here to help. Contact Us!
What makes us different?
If we attempt to make an antibody and it doesn't work, we throw it away. We never sell an antibody that we can't get to work in our hands.
Our commitment to strict validation standards ensures a clean signal in endogenous protein and verifies phosphospecificity for relevant products.
We are dedicated to reproducibility. Look for our "Pooled Serum" icon. Each antibody with this icon is purified from its own pool of serum to ensure lot-to-lot consistency.
We guarantee our antibodies. If you can't get the antibody to work in your application, we will provide a 100% refund.
When making a custom antibody, we provide personalized customer support from start to finish, from peptide design, to purification, to characterization.