100% Reproducibility
Antibody purification from pooled serum is the key!
Ordering an antibody with the same product number from the same company does not guarantee that the antibody is the same.
It's no secret that reproducibility is a huge issue in scientific research. An antibody to a specific protein may work great initially in experiments, but when the same antibody is reordered, the "same" product in the new vial shows completely different results. There are several possible reasons for such anomalies.
One of the most important aspects to consider when purchasing an antibody is to recognize that the same commercial antibodies are often available from many different suppliers; it is important to make sure that you are ordering the same product from the same company in order keep results consistent. However even if you have done this, you may still see lot-to-lot variation of the same product. This happens because many commercial antibody companies purify different lots from different bleeds of an animal or even from an entirely different animal altogether. With such variability, it is no wonder that reproducibility is a problem.
Some suppliers purify different lots of an antibody from different bleeds or even from different animals.
Immunoreactivity can be dramatically different in different bleeds.
An example of how antibody signal strength and specificity can vary across bleeds from the same rabbit is shown below. The immunoreactivity of the 210 kDa band of interest is not the only band that varies across the bleeds. The changing level of cross reactivity with bands at ~100 kDa and ~230 kDa further demonstrates the variability of the immune response from one bleed to the next in the same rabbit. Imagine the difference in an entirely different rabbit!

Bleeds 1-10 collected from a single rabbit producing our REDD1 thr23/25 antibody compared to the purified antibody (lane 1).
Antibody companies should be willing to screen and pool their serum prior to releasing a product.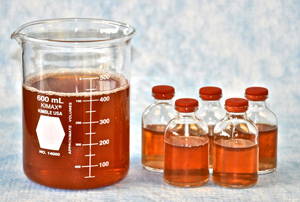 We believe that this is the very straightforward fix to the problem of variability. We screen every bleed of every animal in western blots. If necessary, we then purify from individual bleeds to test for affinity and/or phospho-specificity. Once the bleeds with high quality antibody have been identified, we combine them into one, massive pool. Therefore, all antibody lots sold subsequently are identical, as they have all been purified from identical aliquots from the same, pooled starting material. With this practice, virtually all lot-to-lot variability is eliminated for polyclonal antibodies. Once the pool of antibody has been depleted, then that catalog number is discontinued and new rabbits are immunized and screened for future release.
Look for our "Pooled Serum" icon.
Each antibody with this icon is purified from its own pool of serum to ensure lot-to-lot consistency. Is this a lot of extra care to put into antibody production? Of course! Is it worth it? Absolutely! We are passionate about antibodies that work and feel that you deserve research tools that you can count on, time and time again.
---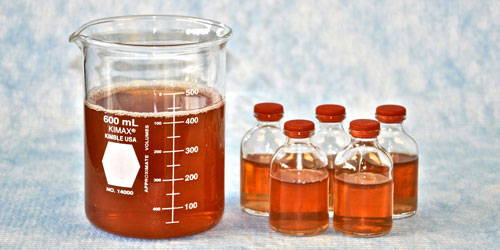 Combining the individual bleeds from a rabbit into a larger pool standardizes the starting material for each purification.
---
Researcher Spotlight:
Dr. Christopher Bartley
We sat down with 2019 HHMI Hanna H. Gray Fellow Christopher Bartley, MD/PhD to discuss the background of Fragile X Mental Retardation Protein (FMRP) and how PhosphoSolutions' anti-phospho-Ser499 FMRP antibody played a crucial role in helping further his research.
---
What makes us different?
If we attempt to make an antibody and it doesn't work, we throw it away. We never sell an antibody that we can't get to work in our hands.
Our commitment to strict validation standards ensures a clean signal in endogenous protein and verifies phosphospecificity for relevant products.
We are dedicated to reproducibility. Look for our "Pooled Serum" icon. Each antibody with this icon is purified from its own pool of serum to ensure lot-to-lot consistency.
We guarantee our antibodies. If you can't get the antibody to work in your application, we will provide a 100% refund.
When making a custom antibody, we provide personalized customer support from start to finish, from peptide design, to purification, to characterization.