Custom Antibody Services - Design
The sequence of the immunizing peptide is crucial to antibody specificity.
Peptide Design
The crucial first step in custom antibody development is peptide design. The specificity and utility of the antibody depends critically on the immunizing peptide. As an example of the peptide design process, consider figure below, illustrating the phospho-peptide for serine-40 in tyrosine hydroxylase. The sequence N-terminal and C-terminal to the phospho-serine is shown at the middle of the figure, while the peptide design is shown at the bottom.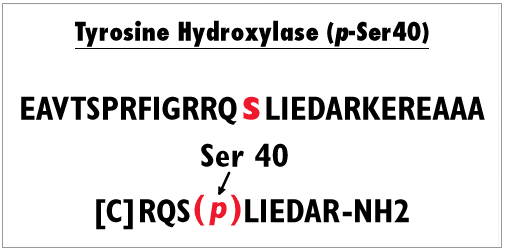 The rationale for the design of this peptide is as follows:
Truncated N-Terminal sequence: First, the peptide has a truncated N-terminal sequence. This was done to eliminate cross reactivity with homologous proteins that were identified in a Blast search.
Use of a Short Sequence: Second, another feature of the peptide design was the use of a very short sequence which forces the phosphoseryl residue into the epitope recognized by the antibody.
Amidation of the C-Terminus: Third, given the very favorable amphipathic character of the peptide, the C-terminus was amidated to better emulate the native tyrosine hydroxylase protein. Such modifications can improve immunoreactivity in western blots and especially in immunohistochemical applications.
Addition of an N-Terminal Cysteinyl Residue: Lastly, an N-terminal cysteinyl residue was added for conjugation to the carrier protein and coupling to the affinity column.
Contact us for a Custom Quote
Overview
We will be with you through the entire process of making and testing your custom polyclonal antibody.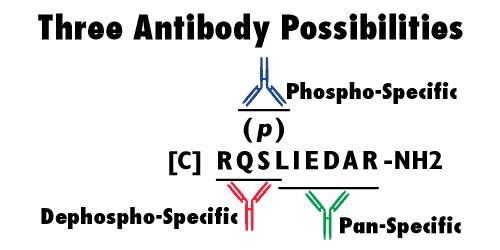 Purification
The only way to isolate the desired phosphospecific antibody is through sequential phospho and dephospho affinity chromatography.
---
What makes us different?
If we attempt to make an antibody and it doesn't work, we throw it away. We never sell an antibody that we can't get to work in our hands.
Our commitment to strict validation standards ensures a clean signal in endogenous protein and verifies phosphospecificity for relevant products.
We are dedicated to reproducibility. Look for our "Pooled Serum" icon. Each antibody with this icon is purified from its own pool of serum to ensure lot-to-lot consistency.
We guarantee our antibodies. If you can't get the antibody to work in your application, we will provide a 100% refund.
When making a custom antibody, we provide personalized customer support from start to finish, from peptide design, to purification, to characterization.